THE ARC'TERYX LEAF ALPHA JACKET: THE JACKET THAT KILLS ALL JACKETS
U.S. Elite would like to introduce you to the baddest jacket the world has ever seen: the Arc'teryx LEAF Alpha Jacket. From material to manufacture, this jacket is made from the highest quality fabric with the most durable and elegant design to protect you in even the most extreme conditions.
In an exclusive interview with Galen Armstrong, the designer of Arc'teryx LEAF, our company's CEO Steve Keefer found out what exactly sets the Alpha Jacket apart from other shell jackets. Armstrong's answer:
"Indeed, the Alpha jacket is our pinnacle piece to combat extreme wet and snowy conditions. The Alpha is actually a sum of its parts, starting with 100% Made in the USA Gore-Tex® fabrics that are chosen for their performance, comfort, and durability properties, based on years of testing, evaluation, refinement, and retesting, until finally deemed fit for use."
Let's start with the material construction. The LEAF Alpha Gen 2 features Gore-Tex® XCR, a military-grade membrane designed for heavy-duty industrial use. Gore-Tex® XCR is a triple-layer fabric consisting of a tempered nylon face fabric which is laminated onto a core membrane, reinforced by a tricot barrier. This material makes the Alpha Gen 2 highly resistant to tears and abrasions and features a unique moisture absorption system. Your sweat will actually disperse through the fabric, letting your body heat naturally and quickly dry it out. Basically, you can beat the crap out of this jacket and it will never surrender. It's built to withstand your dirt and sweat, hot sun, bugs, fuel...you name it, the Alpha Gen 2 will take it on. We love Gore-Tex® fabrics even more because they are manufactured 100% in the USA!
The only thing more badass than the Gore-Tex® fabric is the brilliantly practical design.
The "Chicken Wing" pockets sit high enough to stay out of the way of rucksacks or hip belts.
Internal communications routing port: convenient for use of high-tech communication gadgets or headphones.
Velcro on the shoulders allows for an ID or an American Flag.
Bicep pockets to keep your field notebook, cell phone, dip can...whatever you need handy.
Versatile hood: big enough to fit over a helmet, small enough to hug a bald head. Three draw cords make the fit infinitely customizable.
Inside laminated pockets.
Seams, hems and zippers: innovative design with laminated fusion and tiny seams for maximum Gore-Tex® performance.
Draw cords rerouted to avoid getting tangled up in holsters or gun parts.
Pit Zips: Let that stink out, quick! Instantly release heat and moisture.
Most jackets of this kind take about 180 minutes to manufacture...one Arc'teryx LEAF Alpha jacket takes a full five hours to produce. Each jacket is crafted with meticulous care and testing, which makes each one worth every penny.
This jacket is Elite.
For a more in-depth look at the Arc'teryx LEAF Alpha Jacket:
In this video, David Kramer explains how the fabric, design and quality make the Arc'teryx LEAF Alpha Jacket the platinum standard to which every jacket is compared to.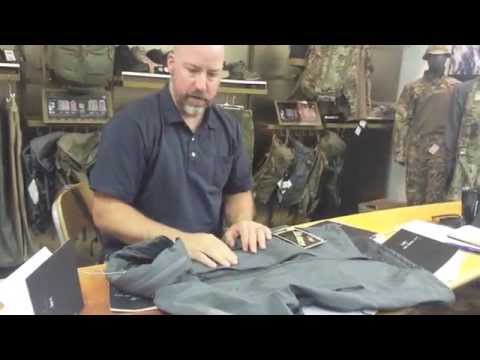 All information in this post is courtesy of David Kramer and Steve Keefer. All images are courtesy of Arc'teryx LEAF.
Leave a comment